Shachihoko of Himeji Castle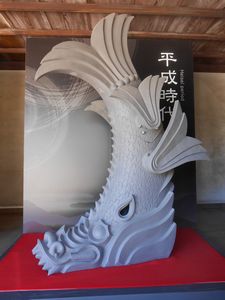 Shachihoko of Himeji Castle
On the roof of Himeji Castle, a lot of roof tiles imitating an imaginary sea animal like a fish with a scary tiger face has been posted.
This fish statue is a decoration called Shachihoko,it is also a symbol for fire prevention. People thought that this fish would spout water out of his mouth in case of fire.
There are 11 fish statues of different sizes on the roof of Main Keep. A couple of fish statues on the top roof are the largest among them.
In the repair work of Main Keep for every few decades, we will replace the tiles damaged by aged deterioration etc. with new ones.

Newly completed

Heisei period

New one on main roof

Small one

Main Keep
The size of the largest one.

Height
186cm
Weight
gross
278kg
body
202kg
caudal fin
42kg
fin(above)
7kg×2pieces
fin(bottom)
10kg×2pieces
Three generations
The photo shows damaged Shachihoko tiles,three generations.
| | | |
| --- | --- | --- |
| Edo period | Meiji period | Showa period |
Shachihoko statues
Shachihoko statues are also exhibited on the streets of Himeji. You can see it nearby.

Shiromidai Park

Otemae street

Otemae street

Jonai Library

Jonai Library

Unga Park

Police Station

photo
The Lords of Himeji Castle during the Edo Period
Shachihoko of Himeji Castles / Fish Shaped Roof Tiles